Better sound quality for the dolphins show: this was the objective of the park. And now they use ionic column speakers.
With more than 15 million visitors since opening  Valencia's Oceanographic is one of the most important marine Aquariums of the world and the biggest in Europe. They park wanted to offer the best experience for their visitors and have just chosen Lynx Pro Audio systems for the park's daily dolphin show.
20 ionic-100 column speakers together with 8 DR-N12 subwoofers have been recently installed in different positions in the dolphinarium, including the roof of the amphitheater and the borders of the dolphin pool. The roof of the amphitheater holds 12 columns in combination with 6 subwoofers. This combination is done with six groups of 2 columns per sub evenly distributed under the roof.
The rest of the cabinets are fixed very close to the dolphin pool to reach the first rows of seats, with 2 subs perfectly hidden from view. With a capacity of 1500 people this dolphinarium is one of the biggest in the world. The dolphins create a magical atmosphere and the ionic system sonically enhaces the show.
The Oceanographic of Valencia is one of the most important marine complexes in the world. This park offers a huge space with 110.000 m2 where all the Seas and Oceans are represented, from the Artic to Red Sea, including island habitats and more than 500 species such as sharks, morays, sturgeons and thousands of specimens of fishes and other species like seals, birds or penguins.  And now some column speakers too, from Lynx Pro Audio.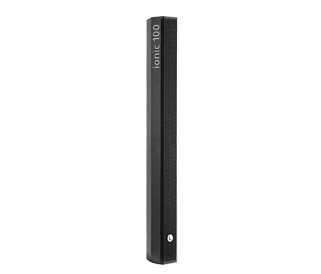 Ultra-compact, passive column speaker with 12 x 3″ (0.75″ voice coil) neodymium transducers.
Extremelly compact, high power, passive subwoofer cabinet with one 12" low frequency transducer with rubber surround in direct radiation configuration.