BS-112
Compact, 12" (3" voice coil) passive subwoofer cabinet band pass configuration
Club & Bar installations
Sound reinforcement
Theatres
Houses of Worship
Multi media spaces
Public address
Specifications 

Components
LF: 12" speaker, 3" ( 75 mm) copper wire voice coil, Waterproof cone with treatment on both sides
Frequency range
40 Hz – 90 Hz with preset
Sensitivity
93 dB
Max. SPL/Peak*
120 dB / 126 dB
Rated Power (AES)
500W AES (1000W program, 2000W peak)
Dispersion
Quasiomnidirectional
Nominal Impedance
8 Ω
Connectors
2 X NEUTRIK Speakon NL4 Pin connections: +1 / -1 input +1 / -1 link
Finish
Polyurea coating
Material
15 mm premium birch plywood
Dimensions

406 x 655 x 400 mm (H x W x D)

Weight
29 Kg (63.9 lbs)
Fittings
2 integrated ergonomic handles, 4 rubber feets right side for vertical install, M-10 fly points
Accesories
M-20 connector pole, M-10 eyebolt
Enclosure type
Band pass subwoofer
* Calculated maximum SPL based on rated peak power and measured sensitivity
The BS-112 is a compact, band pass passive subwoofer cabinet designed to extend low frequency support to the four BS Series full range cabinets.
The 12" (3" voice coil) driver offers high power handling and high sensitivity with low distortion and ultra low air noise. The cone is waterproof and rubber suspension has been treated on both sides and has been optimized for direct radiation subwoofer applications.
Constructed from premium birch plywood and coated in high resistant polyurea paint. The enclosure also offers a screw free grille together with pole mount fitting so that it can be used with any of the four full range cabinets. We recommend that the cabinet presets are applied for maximum optimization and performance.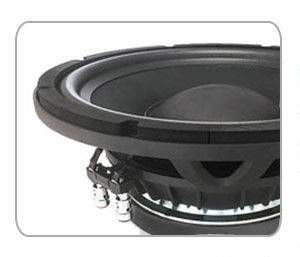 The BS-112 features one low frequency 12" transducer with Fiber glass ring, ferrite magnet and aluminium basket.

Accessories
TU-C02

M20 pole support for combination between sub and satellite cabinet

AGR-10

M10 eyebolt
Enclosure

This cabinet is constructed from premium birch plywood (15mm thickness) and finished with polyurea coating.

Internal design

The internal structure of the cabinet is heavily braced for greater longevity and all parts are assembled on metal  inserts with metric screws.

Rear panel

Discreet, integrated rear connection speakon panel.

Grill

The cabinet has a heavy duty, powder coated front grille with a special acoustic rear fabric to protect the transducers against dust and dirt.

Handles

Integrated ergonomic handles located on each side of the cabinet.

Single pole mount

M20 pole support for tripod or satellite setup.

Rubber feet

4 rubber feets right side for vertical install.
Dimensions