On June 16 Valencia Basket won their first ACB League with Lynx Pro Audio systems providing the club with the sound for this sporting achievement. The Fuente de San Luis arena is the home of Valencia Basket and the sound system in the stadium is exclusively Lynx Pro Audio with the Spanish manufacturer providing the sound for every match during the 2016-2017 season.
Local sound & video company, Sonovideo has been in charge of the technical part for the complete season, ensuring that the Fuente de San Luis provided a spectacular atmosphere, not to mention sound for all the spectators.
The Lynx Pro Audio equipment installed in the stadium is flown over two sections of VMB truss structure hanging from the roof and coinciding with the central area of the court and located above the video marker. On the truss there are 8 arrays flown with a total of 12 LX-V8 and 16 CXA-12 line array enclosures used. Under the video marker there are 4 CXA-12 enclosures covering the first rows of the court.
The arrangement of the boxes consists of 2 different line array series. On the one hand there are four groups of CXA-12 with three boxes per array that cover the two sides of the court. On the other hand there are four groups of LX-V8 with 3 enclosures per array that cover the farthest tiers located behind the baskets.
Both systems are high output, self-powered line array enclosures with built-in DSP and FIR technology, ideal for installation projects. ARK digital processors, also manufactured by Lynx Pro audio were used for control and to ensure the perfect operation of the entire system.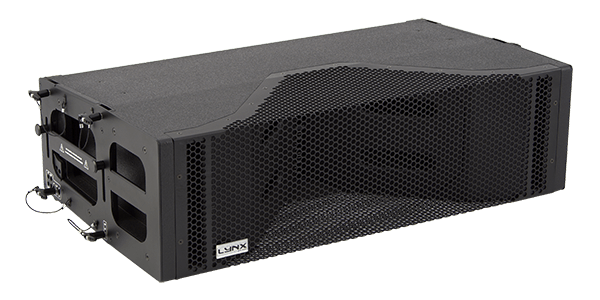 Compact Self-powered (Class D switch mode power supply) V-Configuration front loaded, two-way Line Array.
High Output, self powered (class D switch mode power supply with PFC), constant curvature line array element.