The CLS-218SP is a high-output, extremely powerful sub-bass element designed to be used in unison with the coaxial CLS-212P line array module.
It uses two low distortion 18" (4.5" Split winding copper voice coil) custom speaker with double silicon spider with optimized compliance, ventilated voice coil for reduced power compression and aluminium demodulating ring for very low distortion.
Designed to be used either as a standard sub bass unit or easily configurable in cardioid configuration thanks to integrated front & rear power connectors enable a discreet installation without any cables visible at the front of the cluster. The extra strong, especially designed internal wooden reinforcements reduce unwanted vibrations eliminating any noise, lowering distortion and delivering a clear sound. At the same time, the bass port is designed with a flare to eliminate any turbulence caused by sharp edges in the sound waves path.
The system is amplified with the HPX-12000/DSP, it is a 4 x 3000W @ 4Ω amplifier with PFC (Power Factor Correction) and offers exceptional efficiency with maximum system performance whilst significantly lowering power consumption. With Thermal, short-circuit and overload protections the amplification delivers superior sonic performance. Coupled together with our latest generation, 64 bit/96KHz processor the system electronics are yet further guaranteed not only the utmost protection but the best sonic performance.
Designed in-house by Lynx Pro Audio engineers our DSP offers the most recent advances in digital processing, delivering a linear phase & frequency response. The latest 32 bit/96KHZ AD/DA converters make the system one of the most advanced & innovative line arrays on the market resulting in superior sound quality.
Two Ethernet ports enable the system to be controlled with the OCS platform for easier alignment, monitoring and processing of the array and together with the new Rainbow 3D prediction software delivers a complete system design tool.
The enclosure is made from premium grade birch plywood and finished with a polyurea coating for longer durability & weather protection. It also has a number of dedicated accessories available.
Key features
| | |
| --- | --- |
| • Extraordinary high power output | |
| • Front & rear audio and power connectors for cardioid applications | |
| • Ergonomic design in premium birch plywood & finished in polyurea | |
| • Stackable and flyable standard and/or cardioid configuration | |
Perfectly suited for:
→  

Touring and fixed installations

→  Sports stadiums

→  

Houses of worship

→  Club installations

→  Concert halls and auditoriums
→  Low frequency complement for CLS-28P and CLS-212P
Technical Data
Components

LF: Dual 18" Neodymium magnet transducer. 4.5" split winding copper voice coil. Waterproof cone treated on both sides. Aluminium demodulating ring for very low distortion. 1700 W (AES)

Frequency range
25 Hz – 250 Hz (preset 100 Hz)

Frequency response

30 Hz – 100 Hz (preset 100 Hz)
28 Hz – 80 Hz (preset infra)

Coverage
Quasi omnidirectional

Max SPL / Peak

136 dB / 142 dB

Sensitive 1w/1m half space
101 dB

Power

3400W / 6800W / 13600W peak

Impedance
4 Ω

Configuration

Bass-reflex direct radiation enclosure

Finish
Polyurea coating, high grade resistant paint

Material

15 mm / 18 mm premium birch plywood

Dimensions
600 x 1200 x 770 mm (H x W x D)

Weight

81 Kg (178.5 lbs)
Calculated maximum SPL based on rated peak power and measured sensitivity.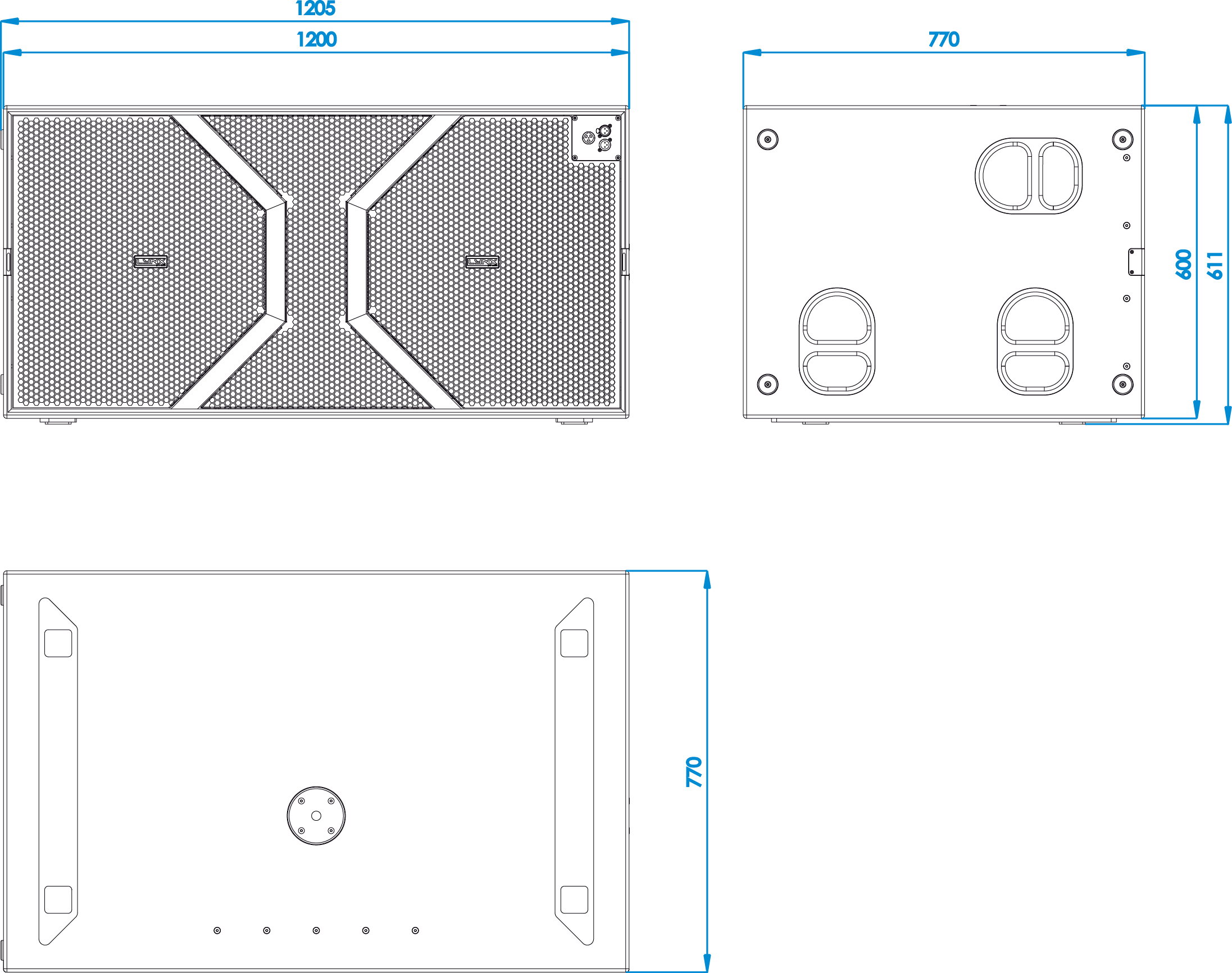 Hardware for CLS-218SP
Enclosure

The CLS-218S cabinet is constructed from 11-ply and 13-ply premium birch plywood (15mm & 18mm thickness). The enclosure is finished with polyurea coating.

Internal design

The internal structure of the CLS-218S is heavily braced for greater longevity and all parts are assembled on metal inserts with metric screws. The amplification modules & DSP are housed in a separate chamber to the drivers avoiding excessive heat & vibration, thus delivering greater efficiency and reliability.

Rear panel

The powder coated steel front panel contains connections to power and signal for cardioid operation.

Grill

The CLS-218S has three heavy duty, powder coated front grille with a special acoustic rear fabric to protect the transducers against dust and dirt.

Handles

The CLS-218S has six ergonomic handles with firm internal grip, three on each side of the enclosure, to facilitate transport, positioning and loading of the cabinets.

Transport

The CLS-218S has two transport options: front squid cover with wheels (100mm) and a metal transport dolly for up to three CLS-218S enclosures.
Accessories for CLS-218SP
ST-SVCLS/M20

Kit to connect SV-CLS10 or SV-CLS20 flying frame and M20 plate

CA-CLS218S

Removable front transport dolly for CLS-218S

CA-CLS218S/2

Dolly for 2 CLS-218S

FD-CLSSUBNL
Rain cover for CLS-118S / CLS-121S / CLS-218S

FD-CLS218S

Nylon protection cover for CLS-218S

FD-2CLS218S

Nylon protection cover for 2 CLS-218S

FD-3CLS218S

Nylon protection cover for 3 CLS-218S
Other products from this series