GR Series
High-end Self-powered, DSP integrated cabinets for both portable and permanent installations
Self Powered
Class D with switching power supply. No need for external amp racks.
Digital Processing
DSP integrated which applies linear phase (FIR) and classical crossovers, including general control options.
Online Control
Online system (Ethernet or PC) to control each cabinet in real time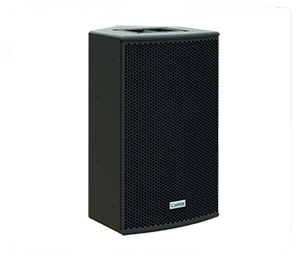 1 x 12" transducer with 1 x 1" drivers, 133 dB SPL
1 x 18" transducer, 133 dB SPL
The GR range of cabinets has been designed for both portable and permanent installations offering the utmost sound reinforcement reliability, incorporating the latest acoustical and electronic technology and delivering incredible, dynamic sound. The GR Series has been designed to offer high levels of SPL and sound clarity whilst maintaining a compact and portable design.
Class D Amplification
The GR cabinets include class D amplification, with switching power supply. The integrated amplification far exceeds the transducers' needs thus resulting in high output, high damping factor and extremely low levels of distortion. The GR series are designed to offer a tour-friendly range for quick and easy set-ups and with no need for external amplification racks.
DSP Control
All GR cabinets are controlled by the latest generation of Digital Signal Processing with a DSP integrated in to each cabinet. This DSP, with 56bit internal processing and double dynamics optimizes all the system components and electronics, providing maximum system efficiency and total protection whilst significantly and noticeably lowering distortion. Every box comes with 20 presets which include a basic full-range preset, various crossovers and a flat preset so that the user can adjust the parameters manually. Ethernet capabilities are also available which allow the user to see the input level signal, fan speed, power module temperature etc.