CS-5T
Ceiling mount loudspeaker system
Coaxial two-way, full-range, 5-inch ceiling mount loudspeaker system designed for voice and background music.
The CS-5T is an in-ceiling loudspeaker delivering great sound performance. It features a 5" woofer + 0.5" tweeter. It uses a 100V / 70V Line transformer that offers a selection of 30/15/7.5/3.5W ( 1.9W @ 70V) delivered to the louspeaker system using high impedance lines or 8Ω bypass.
The baffle, bezel and rear enclosure are constructed from ABS. The rear enclosure adds damping material, providing an optimum internal volume for extended low-frequency performance.
Perfectly suited for:
| | |
| --- | --- |
| →  Corporate training rooms, ballrooms | |
| →  Convention centers, exhibit halls | |
| →  Houses of worship | |
| →  Malls, airports, nightclubs, bars, restaurants | |
| →  Auditoriums, museums | |
Technical Data
Components

 5" 125mm polypropylene cone

 0.5" polypropylene Tweeter coaxially mounted

Frequency Range
 90 – 18.000 Hz

Rated Power

 30W (8 Ω) 120W Peak

Transformer Taps
100V 30 / 15 / 7.5 / 3.75W
70V 30 / 15 / 7.5 / 3.75 / 1.9W
Low Impedance 8Ω

Max SPL

 8Ω 104dB

100V / 70V 104dB

Sensitivity
 89dB 1W / 1m @ Zn

Nominal Impedance

8 Ω

Nominal Coverage
 90º Conical Dispersion

Recommended Signal processing

 100 Hz, at 24 dB per octave high pass filter

Crossover Frequency
2500 Hz

Enclosure material

ABS

Grille
 Powder coated steel, white finish, paintable

Colour

White

Dimensions (H x Diameter)
 114 mm x 213 mm (4.5 in x 8.4 in)

Cut out size

175 mm (6.9 in)

Net weight

1.5 kg (3.3 lbs)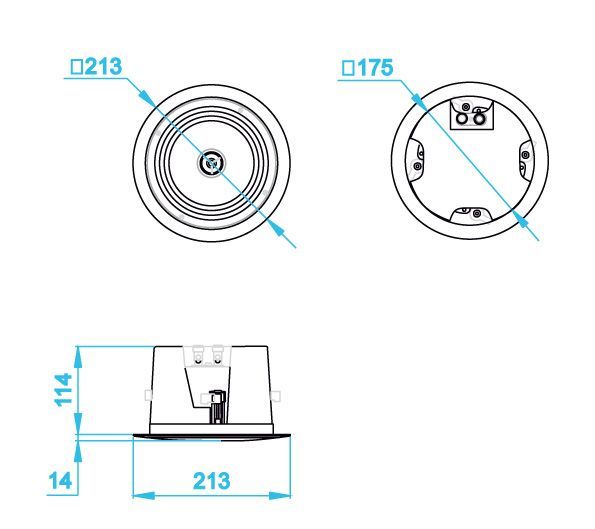 Architectural Specifications
The loudspeaker system shall be a 2 way, full-range ceiling loudspeaker system with a 5" low frequency transducer with a coaxially mounted 0.5" exit high frequency dome tweeter.
The loudspeaker baffle shall be constructed in ABS material with a white finish and ABS back can with terminal connection integrated.
The system shall have an frequency response of 90 Hz to 18 kHz (-10dB) and a nominal low impedance of 8 Ω. The sensitivity shall be 89 dB SPL at 1 meter on axis with 1 watt of pink noise.
The loudspeaker system shall have a conical coverage pattern of 90°. The nominal system impedance shall be 8 ohms.
The system shall be equipped with a 30W line transformer used in 70V or 100V with 30W, 15W, 7.5W, 3.75W and 1.9W taps available in 70V distributed systems and 30W, 15W, 7.5W and 3.75W taps available in 100V distributed systems.
The power rating shall be 30W AES used in a low impedance 8 Ω. The loudspeaker shall be 114mm (4.5") in diameter and 213mm (8.4in) deep. Weight shall be 1.5kg (3.3lb).