CXA-18S
Constant curvature line source
High output, self powered (class D switch mode power supply with PFC), omni-directional subwoofer cabinet.
High output, self powered (class D switch mode power supply with PFC), omni-directional sub bass cabinet.
Consists of a 18" (4" ventilated voice coil) neodymium transducer. DSP controlled with 1400W amplification, 132dB SPL.
The CXA-18S is a self-powered subwoofer enclosure specially designed to reinforce the low frequencies of the CXA-12 linear array elements.
The enclosure mounts a 18 " loudspeaker with neodymium transducer and is amplified with a total of 1400 W in class D, with switched power supply and integrated DSP processor. This system can be controlled online in real time and offers an excellent power-to-weight ratio.
Perfectly suited for:
→  Live PA

→  

Clubs

→  

Theatres

→  

Houses of worship

→  Fixed installations

→  Touring
Technical Data
| | |
| --- | --- |
| Components | LF: 18″, 4″ voice coil, Neodymiun magnet assembly |
| Frequency Range | 30 Hz – 140 Hz (-10dB) |
| Frequency Response | 35 Hz – 125 Hz (± 3dB) |
| Max SPL | 132 dB |
| Coverage Angle | Omnidirectional |
| Power | 1400W Class D with switching power supply & PFC |
| LF Amplifier | 1 x 1400 W |
| Processing | 48 KHz / 56 bit double precision DSP with FIR filters |
| Control | User control interface with LCD |
| Control Connections | Ethernet (OCS) optional / USB (DSP programming) |
| AC Power | 90 – 264V. 50/60 Hz with PFC |
| AC Connections | 16A Neutrik powerCon TRUE1 with looping output |
| Finish | Polyurea coating, black colour |
| Material | 18 mm premium birch plywood |
| Dimensions | 556 x 632 x 696 mm (H x W x D) |
| Weight | 45 kg (99 lbs) |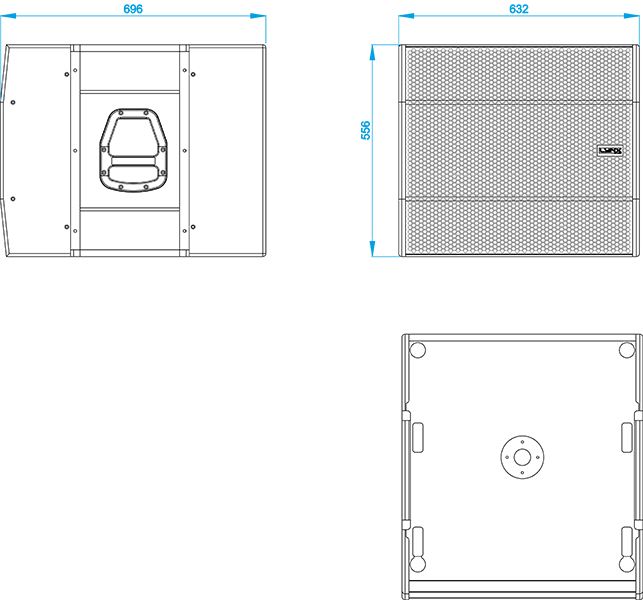 Hardware for CXA-18S
Enclosure

The CXA-18S cabinet is constructed from 13-ply premium birch plywood (18mm thickness) and finished with polyurea coating.

Internal design

The internal structure of the CXA-18S is heavily braced for greater longevity and all parts are assembled on metal inserts with metric screws. The amplification modules & DSP are housed in a separate chamber to the drivers avoiding excessive heat & vibration, thus delivering greater efficiency and reliability.

Rear panel

The powder coated steel rear panel contains all connections and houses the CXA-18S amplification modules and DSP, is easily accessible and housed separately from the drivers for increased reliability and efficiency.

Grill

The CXA-18S has a heavy duty, powder coated front grille with a special acoustic rear fabric to protect the transducers against dust and dirt.

Handles

One ergonomic, die cast handle with firm internal grips is located on each side of the CXA-18S enclosure to facilitate transport, positioning and loading of the cabinets.

Rigging

Integrated flying plates are located on each side of the enclosure, to link the CXA-18S cabinets together or with the CXA-12 cabinets.
Accessories for CXA-18S
BALL-PSR6
Ball pin with thread for CXA-12 and CXA-18S cabinets
SV-CXA
Flying frame for the CXA-18S with a capacity for rigging of up to 4 cabinets

GR-18WKIT
Four wheel kit

FD-1CXA18SNL
Rain cover for the back panel of the CXA-18S
FD-CXA18S
Nylon protection for CXA-18S