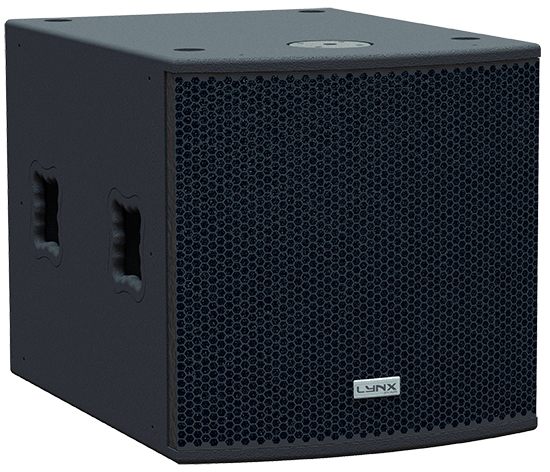 GR-18S
High output, self powered (class D switch mode power supply), direct radiation sub bass cabinet.
Consists of a 18″ (4″ DUO voice coil) transducer with aluminium demodulating ring. DSP controlled with 1000W amplification, 133dB SPL.
Smaller clubs / discos
Smaller live stages / events
Front Fill / Side Fill / reinforcement
Specifications

Components
LF: 18″
Frequency range
35 Hz – 150 Hz
Frequency Response
42 Hz – 100 Hz (+/-3 dB)
Max. SPL
130 dB / 133 dB peak
Coverage angle
360º (one unit)
Power Amplifier
1000 W Class D with Switching Power Supply
Processing
56 bit Lynx DSPB-22
Cabinet adjustment
back panel LCD
Internal Controls
Temperature sensor, Fan speed / Online Control OCS system
Control Connections
XLR / Ethernet (OCS) optional
AC Power
230V / 115V selectable. 50/60 Hz 5A
AC Connections
16A Neutrik Powercon with link output
Material
18mm Premium birch plywood
Finish
High resistant water-based black paint, steel grille with foam protector
Dimensions (H x W x D)
512 x 505 x 700 mm
Weight
47 kg (103 lbs)
The compact, portable, multi-purpose GR-18S sub bass cabinet is has been designed to offer the utmost sound reinforcement reliability, incorporating the latest acoustical and electronical technology and delivering incredible, dynamic sound.
The ADP-18S is an extremelly high power sub-bass cabinet providing exceptional low frequency reinforcement for the GR-12. It uses one 18" (4" DUO voice coil) transducer with aluminium demodulating ring in direct radiation bass reflex configuration. The GR-18S is powered with a total of 1000W of class D amplification. Each cabinet has a DSP integrated for system protection and optimization. Other features include temperature sensor, fan speed control, Ethernet options and many more.
The GR-18S has an unbeatable power to size ratio, there is no need for external amplification racks, is very Light weight and as such is the ideal solution for portable or fixed sound reinforcement enabling quick and easy set-ups. A wheel kit is available for transportation and an integrated pole mount enables easy satellite configuration with the GR-12.
1000W Class D with switching power supply amplifier for the 18" transducer.
The amplification far exceeds the transducer needs thus resulting in high output, high damping factor and extremely low levels of distortion.
The module is also equipped with extensive protection circuitry including power limiters, thermal shutdown, short circuit & overload and clip limiter.
[ezcol_1half][/ezcol_1half][ezcol_1half_end][/ezcol_1half_end]
The cabinets offer Digital Signal Processor integrated and Online Control System
It uses one 18" (4" DUO voice coil) transducer in direct radiation bass reflex configuration.
Transducer with aluminium demodulating ring and waterproof cone (both sides) for outdoor use & forced air convection circuit for low power compression. DUO double layer inner/outer voice coil Designed with Mechanical Mirror Suspension System (MMSS) for high control, linearity and low harmonic distortion. Malt Cross Cooling System and F.E.A. magnet topology maximising flux density in the airgap and completely eliminating magnetic field leakage and thus avoiding any possible magnetic interference with other electronic equipment.
Accessories
TC-C01

35mm connecting pole for satellite combination between GR-18S and full range units

TC-C02

M20 pole support combination between GR-18S and full range units. With safety lock

VSM-V1

35mm speaker mounting top hat for satellite combination with full range units

VSM-V2

M20 connector plate for satellite combination with full range units

FD-GR18SNL

Rain cover for GR-18S

FC-GR18S

Flight case for 2 x GR-18S