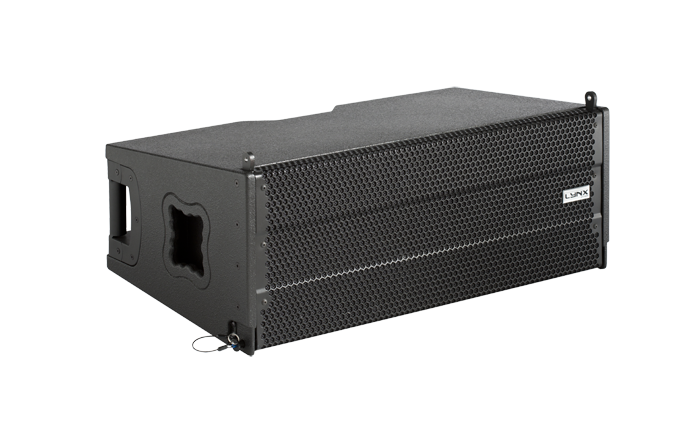 GXR-LA10A
Our new compact Line Array
Compact, self-powered class D, two way Line Array equipped with two speakers of 10″ (2″coil). For HF it uses a 1.4″ output compression driver coupled to a waveguide (100°H x 10°V). Bi-amplified. It delivers high power levels from a very compact format.
Live events
Clubs
Theatres
Houses of worship
Fixed installations
Touring
Specifications 

Components

LF: 10", 2" voice coil, Malt Cross Cooling System

HF: 1.4" Exit throat, 3" voice coil with titanium diaphragm

Frequency Range
60 Hz – 20 KHz (-10dB)
Frequency Response
68 Hz – 18 KHz (± 3dB)
Max. SPL
135dB
Coverage Angle
100º H x 10ºV
Power
1400 W Class D with switching power supply & PFC
LF Amplifier
1 x 800 W
HF Amplifier
1 x 600 W
Processing
48 KHz / 56 bit double precision DSP with FIR filters
Control
User control interface with LCD
Control connections
Ethernet (OCS) optional / USB (DSP programming)
AC Power
90 – 264V. 50/60 Hz with PFC
AC Connections
16A Neutrik powerCon TRUE1 with looping output
Finish
Polyurea coating, black colour
Material
15mm Premium birch plywood
Dimensions 
298 x 790 x 436 mm (H x W x D)
Weight
31 Kg (68.2 lbs)
The GXR-LA10A is part of the GXR Series. Line Array topology is employed to create cylindrical radiation, increasing throw and achieving a precise control of both horizontal and vertical dispersion. The GXR-LA10A is the ideal solution for install projects and live events where a compact line array is required. This is a compact and very practical line array.
The GXR-LA10A is a bi-amplified, two-way, class D enclosure that delivers high power levels from a very compact format offering two speakers of 10″ (2″coil). For the high frequencies it uses a 1.4″ output compression driver coupled to a waveguide offering 100 ° H x 10 ° V coverage. This cabinet offers a very easy to use rigging hardware, quick and reliable.
The GXR-LA10A has a selection of accessories available: Flying frame, transport dolly, nylon protection cover, rain hood, etc.
This system is very easy to use and control without the need for any external amps. To extend the low frequency response, the
GXR-D15A
is the cabinet designed to be flown or stacked in perfect combination with the
GXR-LA10A
units. And when extreme low frequencies are required,
GXR-D18A
is recommended.
Bi-amplified Class D with switching power supply and PFC (Power Factor Correction). With PFC the power supply regulates itself when AC mains change, so the amp power output will not change with mains swinging. The amplification far exceeds the transducers needs thus resulting in high output, high damping factor and extremely low levels of distortion.
This system is also very environmentally friendly with a reduction of approximately 40% of current draw. Includes two power modules, one (800W) for the speakers and other (600W) for the HF drivers.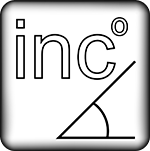 The cabinets offer built in Inclinometer, Digital Signal Processor integrated and Online Control System
Accessories GXR-LA10A
SV-GXR

Flying frame and stacking system for GXR-LA10A/GXR-D15A

You can use this frame for ground stack or rigging.

FC-GXRLA10A

Flight case for GXR-LA10A

CA-GXRLA10

Transport dolly for GXR-LA10A

FD-GXRLA10ANL

Rain cover for the back panel of the GXR-LA10A

FD-GXRLA10

Nylon protection cover for either 4 GXR-LA10A cabinets

GXR-GSKIT

Ground stack kit to stack GXR-LA10A directly or together with the GXR-D18S
Hardware GXR-LA10A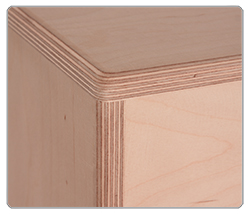 Enclosure
The GXR-LA10A cabinet is constructed from 11-ply premium birch plywood (15mm thickness) and finished with high-resistant water based black paint.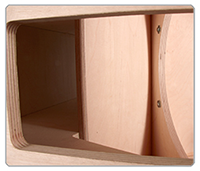 Internal design
The internal structure of the GXR-LA10A is heavily braced for greater longevity and all parts are assembled on metal inserts with metric screws. The amplification modules & DSP are housed in a separate chamber to the drivers avoiding excessive heat & vibration, thus delivering greater efficiency and reliability.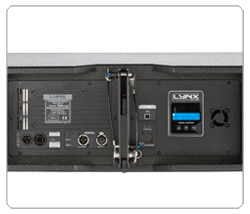 Rear panel
The powder coated steel rear panel contains all connections and houses the GXR-LA10A amplification modules and DSP, is easily accessible and housed separately from the drivers for increased reliability and efficiency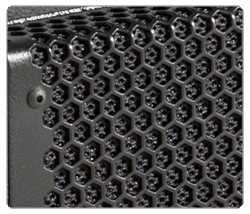 Grill
The GXR-LA10A has a heavy duty, powder coated front grille with a special acoustic rear fabric to protect the transducers against dust and dirt.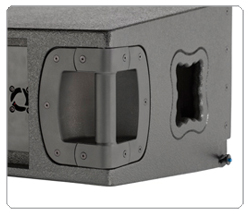 Handles
Two handles are located on each side of the GXR-LA10A enclosure to facilitate transport, positioning and loading of the cabinets.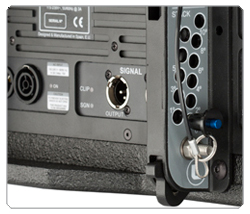 Rigging
Built-in flying points are located on each side of the enclosure, to link the cabinets together. The rear pannel integrates the flying hardware in order to splay angles, from between 0° to 10° with 1° step increments to create the desired curve.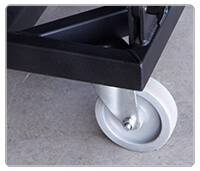 Transport
The cabinet is easy to transport thanks to its dedicated dolly and a protective nylon cover is also available to protect the enclosure and keep it clean on tour.
Dimensions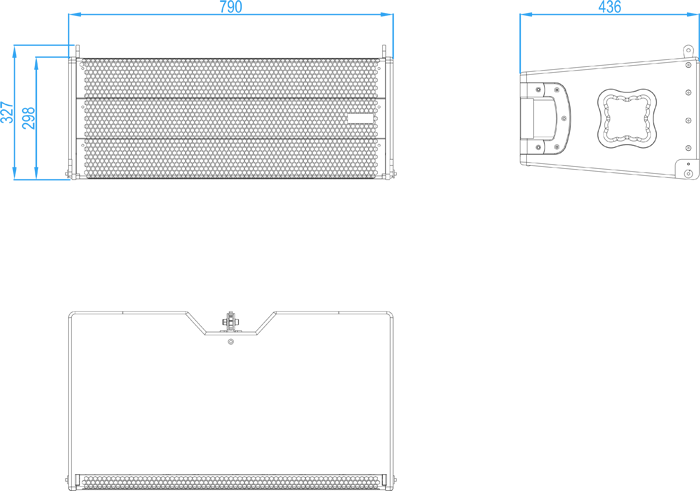 Other products from this serie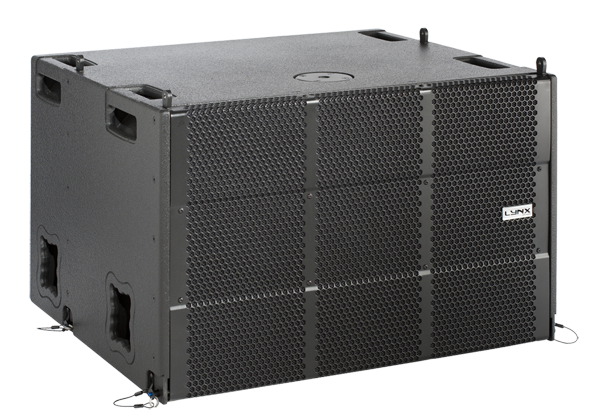 2 x 15" transducers, 134 dB SPL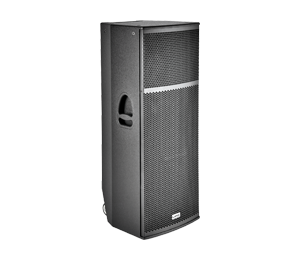 2 x 15" transducers with 1 x 1.4" driver, 131 dB SPL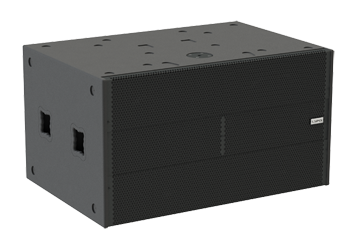 2 x 18" transducers, 134 dB SPL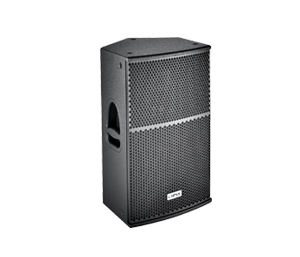 1 x 12" transducer with 1 x 1" driver, 127 dB SPL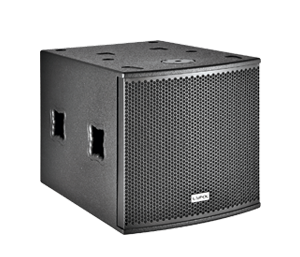 1 x 18" transducer, 132 dB SPL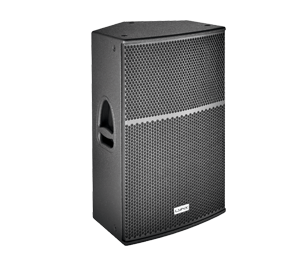 1 x 15" transducer with a 1″ driver, 128 dB SPL