LX-F6
Ultra-compact line array
Ultra-compact Self-powered (Class D switch mode power supply) front loaded, three-way Line Array, dual 6″ neodymium transducers with nomex cones and one HF Air Motion Transformer with kapton diaphragm.
DSP (FIR technology) controlled with 1500W amplification , 127db SPL, built-in inclinometer. A passive version of this cabinet is also available for 'slave link'.
The LX-F6 is the ideal solution for application in theatres, concert halls, stadiums, auditoriums, conference halls or any event where high precision Line Array is required.
The LX-F6 is a high output three-way, front loaded self-powered cabinet. Each cabinet has a DSP integrated which applies linear phase (FIR) and classical crossover. Other features include temperature sensor, fan speed control, inclinometer, Ethernet options and many more.
This cabinet can be linked to and powered by the LX-F6 creating a more economical Line Array whilst maintaining the same power as a fully powered line array configuration.
With a very high power to size ratio and with easy rigging options offered the system can be taken from the truck and rigged up in record time. It is also very easy to use and control without the need for any external amps. To extend the low frequency response, the LX-212S or the LX-218S subwoofer cabinets can be used.
Perfectly suited for:
→  

Sport stadiums

→  Large discos

→  

Auditoriums

→  

Concert Halls

→  Outdoor events

→  Theatres
Technical Data
| | |
| --- | --- |
| Components | LF/MF: Dual 6" custom Nomex cones + Neodymium magnets |
| | HF: Air Motion Transformer system, AMT driver with kapton diaphragm |
| Frequency Range | 75 Hz – 20 KHz (-10dB) |
| Frequency Response | 90 Hz – 18 KHz (± 3dB) |
| Max SPL | 124 dB / 127 dB peak |
| Coverage Angle | 100º H x V according to configuration. |
| Power | 1500 W Class D switching power supply |
| LF/MF Amplifier | 1 x 750 W |
| HF Amplifier | 1 x 750 W |
| Processing | 56 bit Lynx dspb-22 with FIR filters |
| Control | Cabinet angle detection – temperature sensor – Fan speed – Online Control |
| Control Connections | Ethernet (OCS) optional / USB (DSP programming) |
| AC Power | 230V / 115V selectable. 50/60 Hz 5A |
| AC Connections | 16A Neutrik Powercon with link output |
| Finish | Polyurea coating, white colour optional (RAL) |
| Material | 15 mm premium birch plywood |
| Dimensions | 204 x 644 x 290 mm (H x W x D) |
| Weight | 23 Kg (50 lbs) /Passive 20Kg (44 lbs) |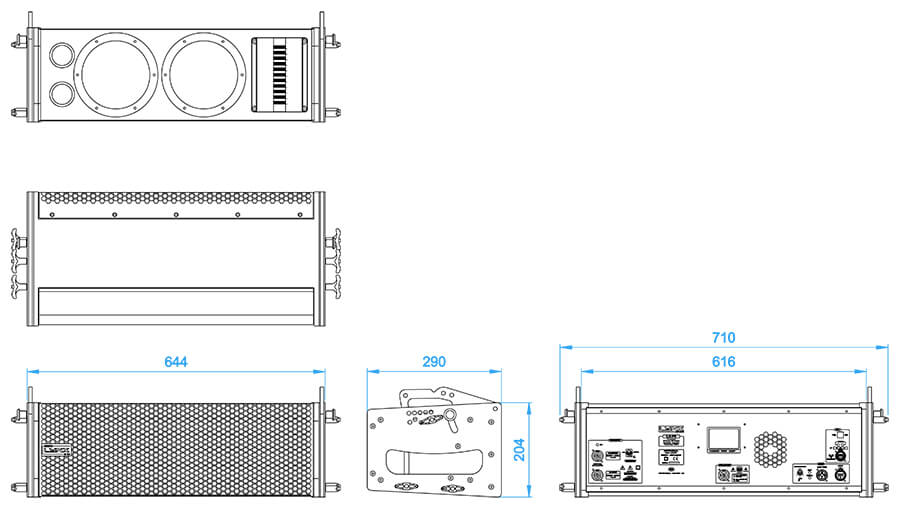 Hardware for LX-F6
Enclosure

The LX-F6 cabinet is constructed from 11-ply premium birch plywood (15mm thickness) and finished with polyurea coating.

Internal design

The internal structure of the LX-F6 is heavily braced for greater longevity and all parts are assembled on metal inserts with metric screws. The amplification modules & DSP are housed in a separate chamber to the drivers avoiding excessive heat & vibration, thus delivering greater efficiency and reliability.

Rear panel

The powder coated steel rear panel contains all connections and houses the LX-F6s amplification modules and DSP, is easily accessible and housed separately from the drivers for increased reliability and efficiency.

Grill

The LX-F6 has a heavy duty, powder coated front grille with a special acoustic rear fabric to protect the transducers against dust and dirt.

Handles

Handles are integrated in to the side plates of the LX-F6 to facilitate transport, positioning and loading of the cabinets.

Rigging

Integrated flying plates are located on each side of the enclosure, to link LX-F6 cabinets together with optional splay angles, from between 0° to 3° with 0.5° step increments and from between 3º to 9º with 1º increments to create the desired curve.

Rigging

Two durable flight cases are available. Either for 4 cabinets of LX-F6 alone or for 4 cabinets of LX-F6 and one LX-212S together. The flight cases both come with space allocated for cabling.
Components
| | |
| --- | --- |
| | For the low-mid frequencies it uses dual 6" neodymium transducers with neodymium magnet groups, nomex cones and suspension with weather protected membrane for outdoor use and ventilated voice coil for improved heat dissipation. |
| | The high frequencies are looked after by an Air Motion Transformer driver TPL-150, which is a very special tweeter with folded diaphragm. The advantage of this type of device consists in the small and very controlled movement of each fold, accelerating the surrounding air inside each fold producing an almost perfect acoustical output in amplitude, phase and all the radiating areas of the transducer. This creates unbeatable transient response, far superior to both conventional drivers and ribbon drivers. The result is crystal clear vocals. You will find more info about this special driver TPL-150 here. |
Accessories for LX-F6
BALL-PSR0820R
Ball pin with thread for LX-F6 / LX-F6P cabinets
SS-LXF6
Ground stack support for LX-F6 and LX-F6P
ST-212
Accessory to stack LX-F6 or LX-F6P on sub LX-212S with inclination of 0º / 3º / 6º / 9º
SA-F6
Accessory for negative angulation
SA-212
Adaptor used to fly the LX-F6 under the sub units LX-212S
SP-TLF6
Adjustable T-Bar support for LX-F6 with LX-212S. Pole is included
FD-1LXF6NL
Rain cover for the back panel of the LX-F6
FC-LX212/F6
Flight case for 4  LX-F6 / F6P with 1 sub LX-212S
FC-LXF6
Flight case for 4 x LX-F6 / F6P
Amplification & DSP
Bi-amplified Class D with switching power supply. Includes one 1000W power modules, for the 6" transducers and one 500W power module for the High Frequency AMT.
The amplification far exceeds the transducers needs thus resulting in high output, high damping factor and extremely low levels of distortion.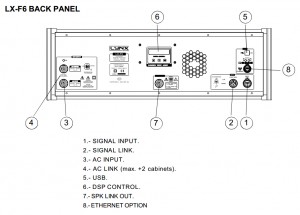 Other products from this series