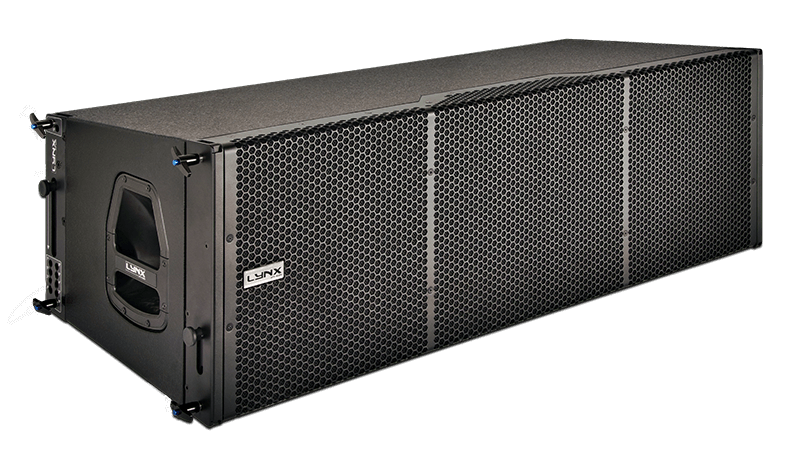 LX-V12
Our biggest line array
Extremely high power, Self-powered Class D with PFC (Power Factor Correction), three-way Line Array.
Dual LF 12" (4" interleaved sandwich voice coil) neodymium woofers with double demodulating rings, Four MF 6.5" transducers with glass fiber cones & ultra-light voice coil and two HF 1.4" neodymium magnet drivers with titanium diaphragm and individual high precision wave guide.
DSP (FIR technology) controlled with 4000W amplification, 143dB SPL, built-in inclinometer.
The LX-V12 is the ideal solution for application in theatres, concert halls, stadiums, auditoriums, conference halls or any event where high precision line Array is required.
The LX-V12 is a very high output three-way self powered cabinet.  Each cabinet has a DSP integrated which applies linear phase (FIR) and classical crossovers. Other features include temperature sensor, fan speed control, inclinometer, Ethernet options and many more.
The LX-V12 has a selection of rugged hardware available. The SV-LXV12 flying frame can hold up to 16 cabinets with splay angles selectable in 0.5º increments between 0º to 3º and 1o increments between 3º to 12º. The CA-LXV12 transport dolly can house up to 6 cabinets and a nylon protection cover is also available. Rain hoods are also optional to protect the system electronics.
With a very high power to size ratio and with easy rigging options offered the system can be taken from the truck and rigged up in record time. It is also very easy to use and control without the need for any external amps. To extend the low frequency response, the LX-318C Cardioid subwoofer is recommended.
Perfectly suited for:
→  

Sport stadiums

→  Large discos

→  

Auditoriums

→  

Concert Halls

→  Outdoor events

→  Theatres
Technical Data
| | |
| --- | --- |
| Components | LF: 2 x 12" neodymium Interleaved Sandwich Voice Coil |
| | MF: 4 x 6.5" neodymium Glass fiber cones.HF: 2 x 1.4" neodymium drivers with titanium diaphragm and individual wave guides |
| Frequency Range | 45 Hz – 20 KHz (-10dB) |
| Frequency Response | 55 Hz – 18 KHz (± 3dB) |
| Max SPL | 140 dB / 143 dB peak |
| Coverage Angle | 100º H x 10 º V according to configuration |
| Power | 4000 W Class D with switching power supply & PFC |
| LF Amplifier | 2 x 1200 W |
| MF Amplifier | 1 x 1000 W |
| HF Amplifier | 1 x 600 W |
| Processing | 56 bit Lynx dspb-24 with FIR filters |
| Control | Cabinet angle detection – Temperature sensor – Fan speed – Online Control |
| Control Connections | Ethernet (OCS) optional / USB (DSP programming) |
| AC Power | 85 – 270V. 50/60 Hz with PFC |
| AC Connections | 32A Neutrik PowerCON NAC3FC-HC |
| Finish | Polyurea coating – white colour optional (RAL) |
| Material | 15 mm premium birch plywood |
| Dimensions | 378 x 1175 x 479 mm (H x W x D) without pins |
| Weight | 74 kg (163 lbs) |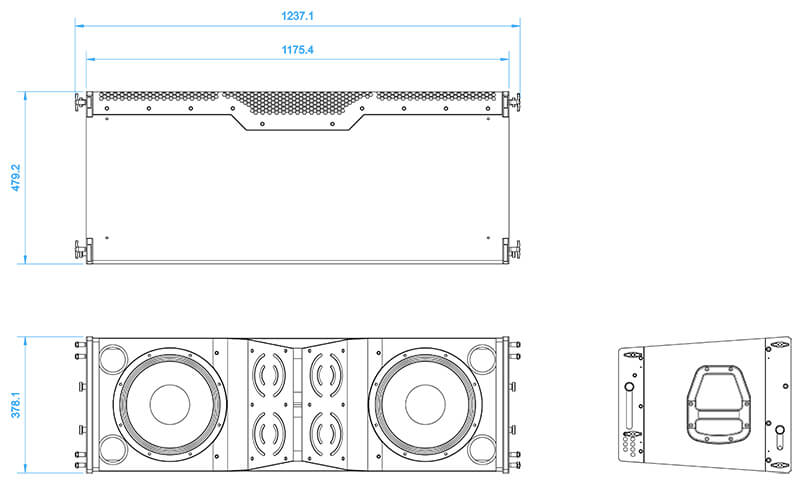 Hardware for LX-V12
Enclosure

The LX-V12 cabinet is constructed from 11-ply premium birch plywood (15mm thickness) and finished with polyurea coating

Internal design

The internal structure of the LX-V12 is heavily braced for greater longevity and all parts are assembled on metal inserts with metric screws. The amplification modules & DSP are housed in a separate chamber to the drivers avoiding excessive heat & vibration, thus delivering greater efficiency and reliability.

Rear panel

The powder coated steel rear panel contains all connections and houses the LX-V12s amplification modules and DSP, is easily accessible and housed separately from the drivers for increased reliability and efficiency

Grill

The LXV12 has a heavy duty, powder coated front grille with a special acoustic rear fabric to protect the transducers against dust and dirt.

Handles

An ergonomic, die cast handle with firm internal grip is located on each side of the LX-V12 enclosure to facilitate transport, positioning and loading of the cabinets.

Rigging

Integrated flying plates are located on each side of the enclosure, to link LX-V12 cabinets together with optional splay angles, from between 0° to 8.5° with 0.5° step increments to create the desired curve.

Transport

The LX-V12 is easy to transport thanks to its dedicated Dolly. The cabinets lock in 4 points on to the dolly and a protective nylon cover is also available to protect the enclosure and keep it clean on tour.
Components
| | |
| --- | --- |
| | For the low frequencies it uses dual 12" neodymium transducers with 4" interleaved Sandwich Voice Coil (ISV), Double Demodulating Rings (DDR) for lower distortion and improved heat dissipation, weather protected cone & plates for outdoor use with onboard heatsink for improved dissipation. |
| | The mid range is looked after by four 6.5" transducers with glass fiber cones for natural sound, low harmonic distortion & ultra light weight aluminium voice coil. |
| | The high frequencies use two 1.4" neodymium magnet drivers with titanium diaphragms increasing the life of the components, short copper cap for extended HF response. Each driver fits its own individual high precision wave guide. |
Accessories for LX-V12
BALL-PSR1020
Ball pin with thread for LX-V12 and LX-318C cabinets
CA-LXV12
Transport dolly for up to 4 LX-V12

ST-LX318CV
Connection system to link LX-V12 with sub LX-318C

SC-LXV12/8
Connection system to link LX-V12 with LX-V8
SV-LXV12
Aluminium flying frame for the LX-V12
You can use this frame for ground stack or rigging of up to 24 cabinets.
FD-1LXV12NL
Rain cover for the back panel of the LX-V12
FD-4LXV12
Nylon protection cover for either 4 LX-V12 cabinets
Amplification & DSP
Bi-amplified
Class D
with switching power supply and
PFC (Power Factor Correction)
. With
PFC
the power supply regulates itself when AC mains change, so the amp power output will not change with mains swinging. The amplification far exceeds the transducers needs thus resulting in high output, high damping factor and extremely low levels of distortion.
This system is also very environmentally friendly with a reduction of approximately 40% of current draw. Includes two power modules, one (800W) for the speakers and other (600W) for the HF drivers.