IXP-8SUB
Professional in-ceiling loudspeaker system
Professional 8-inch subwoofer ceiling mount loudspeaker system.
The IXP-8SUB is an in-ceiling loudspeaker subwoofer with a great sound performance. It features a 8" woofer with 80W AES in a low impedance and it's a loudspeaker designed for extended the low frequency of the IXP ceiling speakers.
It uses a 100V / 70V Line transformer that offers a selection of 50/25W (1.9W @ 70V) delivered to the louspeaker system using high impedance lines or 8Ω bypass.
The baffle and bezel are constructed from white ABS, the rear enclosure made in steel with black finish and adds damping material, providing an optimum internal volume for extended low-frequency performance together with the 2 bass ports situated on the front.
A rear cover, with provision for a junction box fitting provides access to a 4 pin terminal euroblock with loop-through for an easy power connection, also included is a point for safety steel wire and a cable glamp press ensuring the connection.
Perfectly suited for:
| | |
| --- | --- |
| →  Corporate training rooms, ballrooms | |
| →  Convention centers, exhibition centres | |
| →  Houses of worship | |
| →  Malls, airports, nightclubs, bars, restaurants | |
| →  Auditoriums, museums | |
Technical Data
Components

8″ 200 mm polypropylene cone

Frequency Range
50 – 200 Hz

Rated Power

80W (8 Ω) 320W Peak

Transformer Taps
100V 50 / 25 / 12.5 W
70V 50 / 25 / 12.5 / 6.25 W
Low Impedance 8Ω

Max SPL

 8Ω 110 dB / 116 dB

100V / 70V 107 dB / 113 dB

Sensitivity
 90 dB 1W / 1m @ Zn average 60 Hz to 110 Hz

Nominal Impedance

8 Ω

Nominal Coverage
180º

Recommended Signal processing

40 Hz, at 24 dB per octave high pass filter

Crossover Frequency
180 Hz 12dB/octave HP/LP filter

Input connection

4 poles Euroblock connector with loop-through

Enclosure material
Baffle ABS, backcan steel black finish

Grille

Powder coated steel, white finish, paintable

Controls
Front-face wattage / low impedance selector switch

Mounting / Rigging provisions

4 Rotating Mounting tabs (dog ears)

Dimensions H x Diameter
248 mm x 320 mm (9.7 in x 12.5 in)

Cut out size

285 mm (11.2 in)

Net weight
5.62 Kg (12.3 lbs)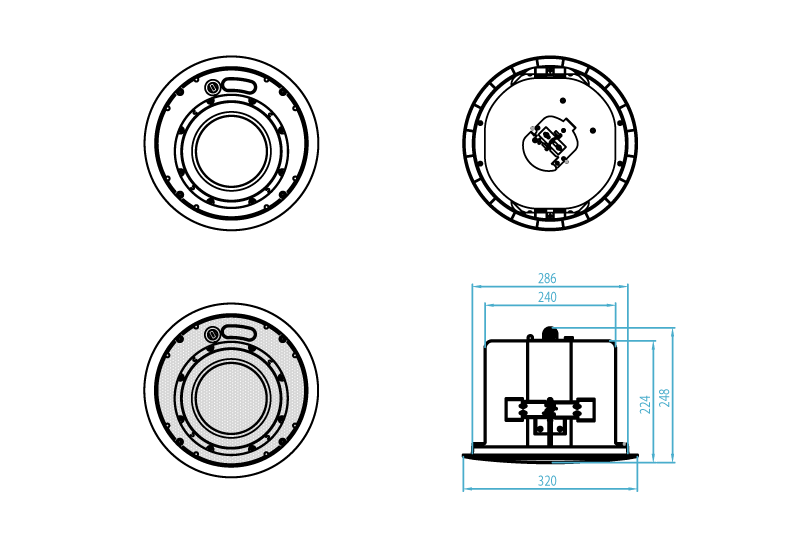 Architectural Specifications
The loudspeaker system shall be subwoofer ceiling loudspeaker system with a 8" low frequency transducer. The loudspeaker baffle/bezel shall be constructed in ABS material with a white and black finish steel backcan.
The system shall have an frequency response of 50 Hz to 200Hz (-10dB) and a nominal low impedance of8 Ω. The sensitivity shall be 90 dB SPL at 1 meter on axis with 1 watt of pink noise. The loudspeaker system shall have a conical coverage pattern of 180º. The nominal system impedance shall be 8 ohms.
The system shall be equipped with a 50W line transformer used in 70V or 100V with 50W, 25W and 12.5W taps available in 70V distributed systems and 50W and 25W taps available in 100V distributed systems, easily accessible front face tap selector switch located on the front baffle is concealed by the supplied removable grille, shall be available for selecting wattage and low impedance settings. The power rating shall be 80W AES used in a low impedance 8 Ω.
The loudspeaker shall have a point on the back to place a security cable, the connection system shall be hidden thanks to a protective metal box and shall have a 4-pin euroblock connector including 2 for input and 2 for loop thru. The loudspeaker installation shall be through 2 rotating Mounting tabs with 4 attachment points. The loudspeaker shall be 320mm (12.5") in diameter and 248 mm (9.7in) deep. Weight shall be 5.6kg (12.3lb).