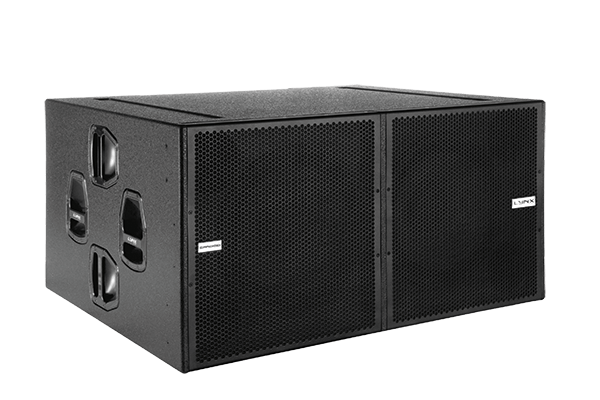 LX-318C
Extremely high power cardioid subwoofer
Extremelly high power Cardioid subwoofer, self-powered (Class D switch mode power supply). Consists of three 18″ (5″ voice coil) low frequency neodymium transducers with Double Silicon Spider (DSS) technology and reinforced cones with carbon fiber (2 frontal + 1 rear)
DSP (FIR technology) controlled with 4200W amplification with PFC (Power Factor Correction), 141dB SPL.
The LX-318C cardiod is the ideal solution for application in theatres, concert halls, stadiums, large discos, or any event where high precision line array is required. This subwoofer cabinet is the ideal combination where low frequency reinforcement is required for the LXV12.
Ultra high power, cardiod, sub-bass cabinet with three 18″ low frequency neodymium transducers with carbon fiber reinforced, straight ribbed cones and Double Silicon Spider (DSS) technology delivering extremely low distortion. The transducer cones are weather protected for outdoor use and optimized air flow reduces heat dissipation increasing power handling and lowering the power compression figure. Voice coil technology employs 2 layers of copper clad aluminium wire with triple roll, polycotton suspension. The system is powered with a total of 4200W of class D amplification with PFC (Power Factor Correction) and each cabinet has a DSP integrated. Other features include temperature sensor, fan speed control, inclinometer, Ethernet options and more.
The LX-318C cardiod cabinet is not a conventional cardiod but a '2 in 1'. Because of our sophisticated integrated processor the user can select between omnidirectional or cardiod coverage, activating the rear speaker as well as selecting the rear frequency they most want to cancel, increasing the front pressure and directivity and ensuring that rear sound does not spill on to the stage behind the subwoofer.
Perfectly suited for:
→  

Concert Halls

→  

Large discos

→  

Auditoriums

→  Sport Stadiums

→  Outdoor events

→  Theatres
Technical Data
Components

Front: 2 x 18″ (5″ voice coil) neodymium. DDS technology. Reinforced cone with carbon fiber.Rear: 1 x 18″ (5″ voice coil) neodymium. DDS technology. Reinforced cone with carbon fiber.

Frequency Range
Cardioid: 30 Hz – 100 Hz
Omni: 30 Hz – 160 Hz

Frequency Response

Cardioid: 32 Hz – 95 Hz (± 3dB)

Omni: 32 Hz – 140 Hz (± 3dB)

Max SPL

138 dB / 141 dB peak

Coverage Angle
Depending on selected DSP configuration
Power
4200 W Class D with switching power supply and PFC (Power Factor Correction)

Processing

56 bit Lynx dspb-22 

Control
Temperature sensor – Fan Speed

Control Connections

Ethernet (OCS) optional / USB (DSP programming)

AC Power
85V – 270V. 50/60 Hz with PFC

AC Connections

32A Neutrik Powercon NAC3FC-HC

Finish
Polyurea coating – white colour optional (RAL)

Material

18 mm premium birch plywood

Dimensions

620 x 1205 x 970 mm

(H x W x D)

Weight

112 kg (245 lbs)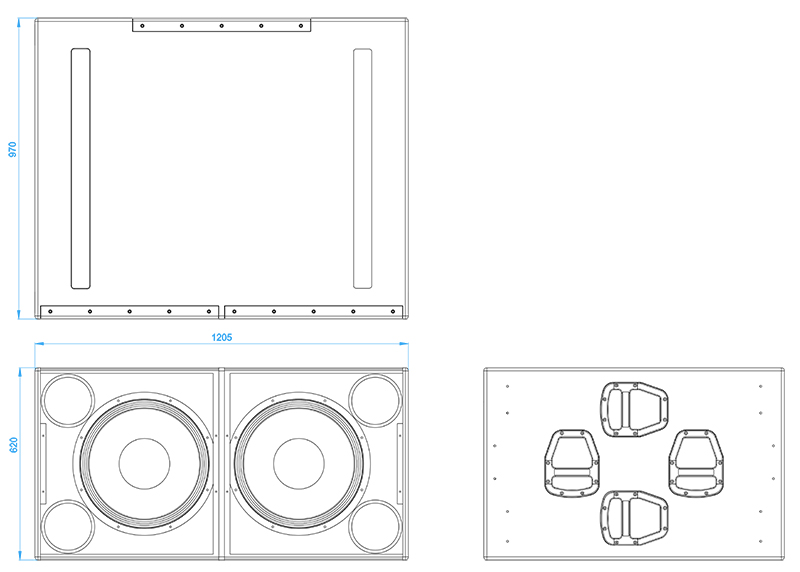 Hardware for LX-318C
Enclosure

The LX-318C cabinet is constructed from 13-ply premium birch plywood (18mm thickness) and finished with polyurea coating.

Internal design

The internal structure of the LX-318C is heavily braced for greater longevity and all parts are assembled on metal inserts with metric screws. The amplification modules & DSP are housed in a separate chamber to the drivers avoiding excessive heat & vibration, thus delivering greater efficiency and reliability.

Rear panel

The powder coated steel rear panel contains all connections and houses the LX-318C amplification modules and DSP, is easily accessible and housed separately from the drivers for increased reliability and efficiency.

Grill

The LX-318C has a heavy duty, powder coated front grille for the 2 front 18″ drivers and one for the rear 18″, both with special acoustic rear fabric to protect the transducers against dust and dirt.

Handles

Four ergonomic, die cast handles with firm internal grips are located on each side of the LX-318C enclosure to facilitate transport, positioning and loading of the cabinets.

Rigging

The LX-318C can be flown if chosen and comes supplied with fittings at each side so that flying plates can be added if required.

Transport

The LX-318c is easy to transport thanks to its dedicated Dolly. The cabinets slip in to place on the dolly and a protective nylon cover is also available to protect the enclosure and keep it clean on tour.
Components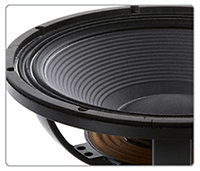 Three 18″ transducers with neodymium magnet groups, 5.3" ISV (Interleaved Sandwich Voice Coil) with double copper clad aluminium wire to handle high power, Double Silicon Spider (DSS) technology to control moving mass with high linearity delivering extremely low distortion.
Air flow optimization with cooling system, increasing the power handling capability and lowering the power compression figure.
 These transducers give the best possible results with today's available materials in terms of clean and undistorted LF production at a ultra high SPL with the lowest possible power compression figure.
Weather protected cones make the transducer far more resistant to the corrosive effects of salts and oxidization.
Accessories for LX-318C
BALL-PSR1020
Ball pin with thread for LX-V12 and LX-318C cabinets
CA-LX318C
Transport dolly for up to 3 LX-318C

ST-LX318CV
Connection system to link LX-318C with line array cabinets LX-V12 or LX-V8

KV-318C
4 piece adaptator kit for flying LX-318C
SV-LX318C
Flying frame for the LX-318C
FD-1LXV318CNL
Rain cover for the back panel of the LX-318C
FD-2LX318C
Nylon protection cover for 2 LX-318C cabinets
FD-3LX318C
Nylon protection cover for 3 LX-318C cabinets
Amplification & DSP
Tri-amplified Class D with switching power supply and PFC (Power Factor Correction). With PFC the power supply regulates itself when AC mains change, so the amp power output will not change with mains swinging.
This system is also very environmentally friendly with a reduction of approximately 40% of current draw. Includes two 1400W power modules, one for each front 18" transducer and one 1400W for the rear transducer.
The amplification far exceeds the transducers needs thus resulting in high output, high damping factor and extremely low levels of distortion.