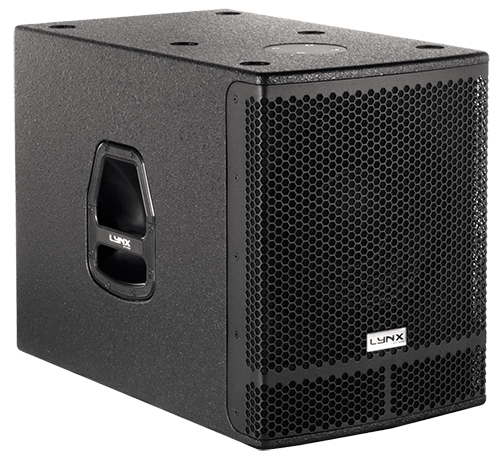 ADP-12S
First class powered subwoofer
High output, self powered (Class D switch mode power supply) direct radiation suwboofer cabinet. Consists of an 12″ (4″ ISV voice coil) neodymium magnet transducer with double spider for improved linearity. DSP controlled with 1000W amplification, 134db SPL.
The compact ADP-12S subwoofer cabinet is part of the ADP Self powered, DSP integrated Series. It has been designed to offer the utmost sound reinforcement reliability, incorporating the latest acoustical and electronical technology and delivering incredible, dynamic sound.
The ADP-12S is an extremelly high power subwoofer cabinet providing exceptional low frequency reinforcement for the ADP Full range cabinets. Each cabinet has a DSP integrated for system protection and optimization. Other features include temperature sensor, fan speed control, Ethernet options and many more.
The ADP-12S has an unbeatable power to size ratio, there is no need for external amplification racks, is very Light weight and as such is the ideal solution for portable or fixed sound reinforcement enabling quick and easy set-ups. An integrated pole mount enables easy satellite configuration with the ADP full range cabinets.
Perfectly suited for:
→  Theatres & auditoriums

→  

Houses of worship

→  

Small / middle sized clubs

→  Smaller Live stages / events

→  Front fill / side fill reinforcement

→  Portable sound reinforcement
Technical Data
| | |
| --- | --- |
| Components | 1 x 12″ Neodymium Woofer with Nomex cone |
| Frequency Range | 40 Hz – 180 Hz (-10dB) |
| Frequency Response | 45 Hz – 150 Hz (± 3dB) |
| Max SPL | 131 dB/ 134 dB peak |
| Coverage Angle | Omnidirectional |
| Power Amplifier | 1000 W Class D with switching power supply |
| Configuration | Bass-reflex, Direct radiation |
| Processing | 48 KHz / 56 bit double precision DSP  |
| Cabinet adjustment | back panel LCD |
| Control Connections | XLR / Ethernet (OCS) optional, USB (DSP programming) |
| AC Power | 230V / 115V selectable. 50/60 Hz 5A |
| AC Connections | 16A Neutrik powerCon with link output |
| Finish | Polyurea coating, black colour |
| Material | 18 mm premium birch plywood |
| Dimensions | 495 x 380 x 644 mm (H x W x D) |
| Weight | 29 kg (64 lbs) |
Hardware for ADP-12S
Enclosure

The ADP-12S cabinet is constructed from 11-ply premium birch plywood (15mm thickness) and finished with polyurea coating

Internal design

The internal structure of the ADP-12S is heavily braced for greater longevity and all parts are assembled on metal inserts with metric screws. The amplification modules & DSP are housed in a separate chamber to the drivers avoiding excessive heat & vibration, thus delivering greater efficiency and reliability.

Rear panel

The powder coated steel rear panel contains all connections and houses the ADP-12S amplification modules and DSP, is easily accessible and housed separately from the drivers for increased reliability and efficiency

Grill

The ADP-12S has a heavy duty, powder coated front grille with a special acoustic rear fabric to protect the transducers against dust and dirt.

Handles

One ergonomic, die cast handle with firm internal grips is located on each side of the ADP-12S enclosure to facilitate transport, positioning and loading of the cabinets.
Components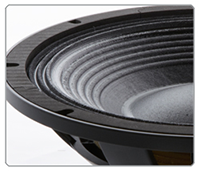 It uses one 12" (4" ISV voice coil) neodymium transducer with double spider (for improved linearity) in direct radiation bass reflex configuration.
Low frequency transducer with rubber surround, Doped Nomex® suspension, double spider for improved control and linearity and a 4" Interleaved sandwich voice coil.
Weather protected membrane for outdoor use.
Accessories for ADP-12S
TU-C01

35mm connecting pole for satellite combination between ADP-12S and ADP full range cabinets

TU-C02

M20 pole support combination between ADP-12S and ADP-15/ADP-12/ADP-26. With safety lock

VSM-V1

35mm speaker mounting top hat for satellite combination between ADP-12S and ADP full range cabinets

VSM-V2

M20 connector plate for the ADP-12S

FD-ADP12SNL

Rain cover for ADP-12S
Amplification & DSP
1000w Class D with switching power supply amplifier for the 12" transducer.
The amplification far exceeds the transducer needs thus resulting in high output, high damping factor and extremely low levels of distortion.
Other products from this series