Premier Entertainment Services (PES), the Caribbean distributor for Lynx Pro Audio, in August 2011, procured a Lynx LX-F6 Line Array System on behalf of the Portmore Seventh-Day Adventist Church.  Located at Portmore, St. Catherine, Jamaica, it is the largest Seventh-day Adventist Church in the Caribbean, with a seating capacity of 3,500 persons.  The sound reinforcement system is for use in their worship services.
PES with assistance from Lynx Pro Audio used the Rainbow design software to determine the design and specifications of the system recommended in its tender document dated May 2011.
The system purchased, consists of six per side LX-F6 and LX-F6P speakers with four per side QB-D6 under balcony fill speakers and two LX-218S subwoofers.   An ARK-7048 Processor is used for control.
The Church's acoustics have quite a bit of reverberation so it was important to install a system to counteract this as best as possible.  The area of the sanctuary is 150 feet in length by 80 feet in width and 40 feet high at its apex.
The installation was completed in November 2011 by PES under the direction of Michael Spence, Chief Sound Engineer and Managing Director.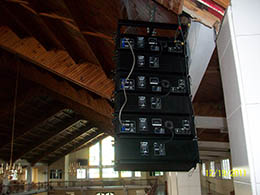 The Church's governing body and membership has expressed their satisfaction at the high sound pressure level before feedback and even coverage throughout the sanctuary.
Comments from Board Members and worshippers include the following:-
1.    "Worship is now a joyous occasion."
2.    "Our church is now the envy of the district."
3.    "The sound system helped to make our Music Day celebrations a huge success."
4.    The quality sound from the new system has significantly enhanced the worship experience."
5.    "Worship at Portmore will never be the same again, Thank God for blessing us with the new system."
6.    "Quality sound with aesthetic appeal; win-win."
7.    "Thank you Lynx for great equipment."