Lynx Pro Audio has returned this year to ISE, the most important fair in the audiovisual world held in Amsterdam. On this occasion we presented two important products at the fair: A new series of ultra light line arrays with coaxial drivers (CLS series) and the improved acoustic prediction software "Rainbow 3D".

Jesús Fuentes, product manager of Lynx Pro Audio, Ben Sinclair, sales manager, and Néstor Varela, acoustic engineer from the R&D department, were all present, showing the new CLS series, a revolutionary line arrays series together with a large selection of already existing Lynx Pro Audio brand products. In addition, Nestor Varela was demonstrating the Rainbow 3D acoustic prediction software, teaching its functionality and features to interested attendees.
This year the people who approached the stand have also been able to take physical copies of the new catalogue which contains information about the company, product range, technology and software development. You can take a look at it by clicking here.
Summary of products that have been exhibited this year: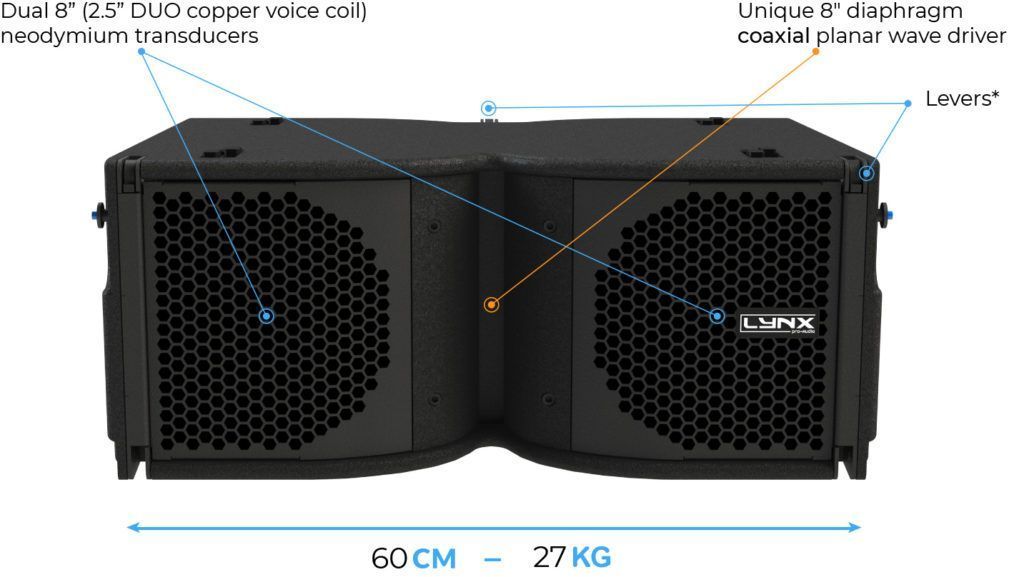 The CLS (Coaxial Line Source) Series is our newest scalable line array solution.
There are two full range cabinets available, CLS-212 & CLS-28 and three sub-bass options; CLS-121S, CLS-218S and CLS-118S.
All enclosures are designed to offer incredible output in the most compact format possible. For example, the CLS-28 enclosure only measures 60 cm and weighs 27 kg with a power of 2800W. The CLS-212 measures 80 cm and weighs 47 kg with a power of 6000W.
Extreme care has been taken to select and customize the most advanced components on the market, including coaxial Mid/high drivers together with full electronic synergy through the coupling of the system amplification & integrated DSP technology.
Thanks to RavePubs for the video: https://www.ravepubs.com/rave-video/ise-2020-lynx-pro-audio-shows-cls-28-three-way-self-powered-dsp-integrated-coaxial-line-array/
In ISE, HR-1296/7 and HR-28 were exposed in an upright position. Both are available with the Marine Grade option: designed to withstand extreme weather conditions. The Marine Grade is ideal for facilities where the enclosures are exposed to the elements, such as cruises or beach clubs.
These enclosures are specially manufactured with more resistant materials so that the exterior is not worn and specially chosen components to protect the internal elements.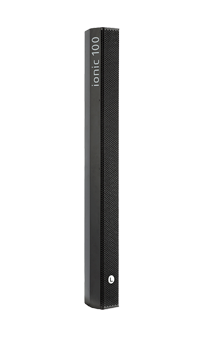 Smart & slim column speakers designed for reverberant installations where intelligible, clear voice reproduction is paramount and where a low profile, discreet column is required.
The Ionic range of columns is our solution for lightweight installation column speakers, both portable or permanent applications. The Ionic series comprises two modular columns, one coaxial full-range and two subwoofers.
One of the columns, the Ionic-50, measures 50 cm and the Ionic-100 is 100 cm high. These columns are very discreet in black or white colour, but they can also be customized with water-vinyl patterns, achieving an incredible design and appearance.
The tops can be powered from the subwoofers and also offer various preset configurations from the integrated DSP.  This series is completed with a 5 "box, Ionic-5CX, very compact and versatile.
The CXA is intended as a flexible solution for both fixed installations and touring where wide coverage is required from as few line array elements as possible.
Designed to be flown either horizontally or vertically, this line source system can be used as a single element or a combination of a maximum of 4 cabinets in array configuration.
The CXA-12 uses one 12″ LF/MF speaker next to a custom Multidriver waveguide system. The enclosure is self-powered with a total of 1400W (Class D, witch mode power supply), with PFC system and DSP processor with linear phase FIR filters.