The Bachus is a contemporary club with nice atmosphere located in Alesund, the city of Art Nouveau in Norway.
The Bachus Lounge and Club offers a dance floor prepared to make dance everybody, and also a relaxing lounge with comfortable sofas. The club is equipped with different Lynx Pro Audio systems specially selected for each ambiance.
The dance floor is equipped with a DS system, including 4 units of the Horn loaded cabinets DS-12 in combination with other 4 units of the extremely high power sub-woofers DS-18S. The 4 cabinets DS-12 are flown from the ceiling and the subwoofers are strategically hidden.
The lounge is a more relaxing area where the sofas are the centre of the ambience. For this space the club installs 10 cabinets HR-26 evenly distributed around this area, including 2 sub units HR-18/6 to reinforce the low frequencies.
All the amplification is done using HPX-12000, RS2-3600 and RS2-1000 amps from Lynx Pro Audio, with a digital audio management for each ambience, ARK-2024 controlling the lounge audio system and ARK-7028 controlling the dance floor DS system.
The cost-effective RS Series amplifiers are designed for the professionals researching quality, reliability and value.

The ARK-70 and ARK-20 are the latest in the series of digital processors offering 7 different models with 2 or 4 inputs each and with up to 8 outputs.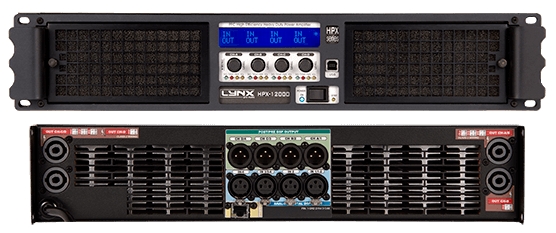 New generation of professional touring amplifiers offering from 4600 to 12000 watts. The HPX series feature four channel models, ready for rough handling in the touring world.